Fan blades - more efficient aftermarket fan blades - are readily available from various vendors - Spal, Flex-A-Lite, etc. I'll see if I can find the links I have saved somewhere.
A great option for fan motors is CoolCat fans!
http://www.coolcatcorp.com/product/CoolCatFan38.html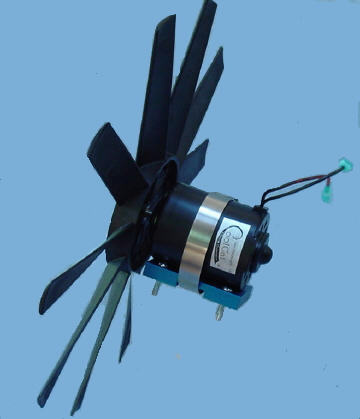 I mounted two of these CoolCat fan motors into my Pantera and they work great. Dimensions are nearly identical to the original Lucas motors. The Coolcat motor is 3" in diameter and should fit anyplace a Lucas motor fits. It will not accept a Lucas blade however, as shaft is thicker. I encountered this when mounting my Cortina blades and merely drilled them out a hair to fit the larger shaft, and added a set screw from a set of Flex-A-Lite fans I had laying around. Contact Mike Frank at CoolCat to get a price on a pair of fan motors WITHOUT fan blades or the mounting plate shown in the pic. You can buy pusher blades relatively inexpensively elsewhere online, and the Pantera already has the mounting for the motors.
Replacement fan blades are readily available. I believe the Cortina fan blades (The Cortina 8-blade fans and their steel adapters were listed in the Gr-3 & Gr-4 Supplemental Parts Lists for Europe) are 10" diameter, and the Flex-a-Lite blades Hall sells with their Mariah pusher fans are 12" since they don't use the original fan shrouds.
The GR-3/GR-4 (Cortina) fan blades may still be available from the vendors. I don't see them on Hall's site, but they are on Wilkinson's site (Item #70 in the diagram below):
https://panterapartsusa.myshopify.com/products/11052A
Here are replacement parts/blades from Flex-a-Lite, almost all available on Summit Racing or Amazon.
https://www.flex-a-lite.com/el...ement-parts.html?p=1
This is the fan blade like Hall uses with their Mariah fans:
https://www.flex-a-lite.com/12...cement-ring-fan.html
Similar style, but curved blade design:
https://www.flex-a-lite.com/el...t-fan-blade-694.html
A few more generic looking 12" fan blades:
https://www.flex-a-lite.com/el...t-fan-blade-693.html
https://www.flex-a-lite.com/el...t-fan-blade-695.html
https://www.flex-a-lite.com/el...ement-fan-blade.html
Flex-a-Lite also sells replacement 10" fan blades if you wish to try and fit them inside the original fan shrouds:
https://www.flex-a-lite.com/10...t-fan-blade-726.html
https://www.carid.com/flex-a-l...lade-mpn-32131k.html