I recently wrote this historic summary of the Vignale coach Panteras for a European owner, I thought some of you guys may enjoy what I wrote.
---
Pre-Production History
The principals of Rowan Industries, John Ellis and Amory Haskell (brother-in-law and brother of Isabella De Tomaso, respectively), had become financial partners with the De Tomaso's in 1967. Together they had acquired the coachworks of Ghia (1967) and Vignale (1969), both located in Turin Italy. Carrozzeria Ghia was mostly a design studio with low-volume production capability. Carrozzeria Vignale however was a major industrial property, it had relocated in 1961 to a new 300,000 square foot coach manufacturing factory with the potential for producing more than 100 coaches per week. When Ford entered the picture the De Tomaso factory was located in eastern Modena at Via Jacopo Peri, 68. They had been there since 1967. This is where Mangusta chassis were being assembled and joined to their coaches; the coaches arrived in Modena via truck from Carrozzeria Ghia in Turin where they were manufactured.
The designers at Ghia, under the leadership of Tom Tjaarda, revised the design of the Mangusta so as to make it acceptable with Ford. Representatives of Ford visited Ghia to view the models of the redesigned Mangusta, and one of their proposals was accepted. Therefore De Tomaso Automobili and Ford entered into an agreement for technical service and for the manufacture of low-volume specialty cars on September 9, 1969.
Caption: Rick McBride, the professional photographer who took the Pantera's first advertising photos, conceived the Pantera's name.
The specifics of the chassis design were engineered by none other than Gian Paolo Dallara, who had resigned a position at Lamborghini to design race car chassis for DeTomaso. Running prototypes were ready by February 1970. The name "Pantera" was conceived by Rick McBride, the photographer who was responsible for the earliest promotional photos of the yellow Pantera amongst the statues and columns of ancient Rome.
The Pantera made its public debut in March 1970, at the Monza race track near Milan, Italy; it debuted in America at the New York and Los Angeles Auto Expos in April and May of 1970. Both the press and the public were enthusiastic about the Pantera, it was the talk of the auto industry. De Tomaso had a second "hit" on their hands, an even bigger hit than the Mangusta had been. This one had the promotional power of Ford behind it.
A Customer Became A Business Partner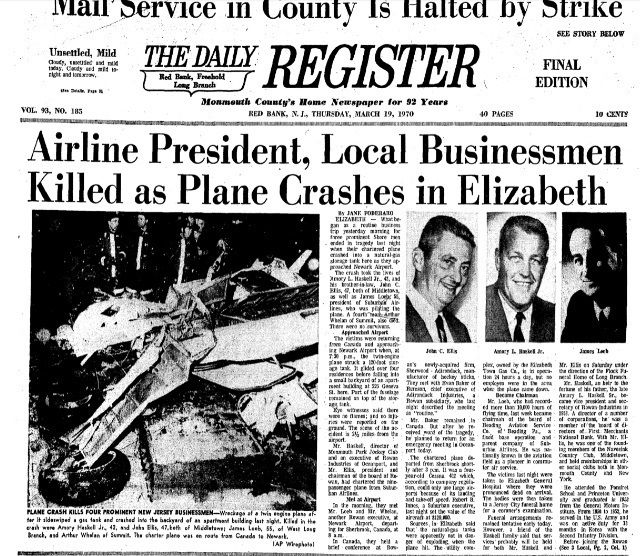 John Ellis and Amory Haskell lost their lives in a plane crash in March 1970. In June 1970 Ford acquired Rowan Industries' stock interests in De Tomaso Automobili, the Ghia coachworks, the Vignale coachworks, and De Tomaso America (an import company). Ownership of these four companies was reorganized under a new holding company named De Tomaso Incorporated. Ford of North America owned an 80% share in De Tomaso Inc. while Alejandro and Isabella De Tomaso owned the remaining 20% share. The relationship between Ford and De Tomaso changed; prior to June 1970 Ford could only make requests of De Tomaso. But Ford was no longer De Tomaso's "customer", it was now their business partner.
Production Began
Caption: This picture was taken at the Vignale coachworks in Turin
Unlike De Tomaso's previous sports cars, the Vallelunga and Mangusta, the Pantera was a monocoque design, i.e. a uni-body. The coach and chassis were not two separate units manufactured in two separate factories, the coach and chassis were one unit. When the coach of a uni-body is completed the only parts remaining to install are the suspension, the steering, the brakes and the drive train. This made it feasible to fully assemble the Pantera more efficiently in one location, i.e. at the Vignale coachworks in Turin; the earliest Panteras (push-button models) were manufactured under the supervision of De Tomaso in this manner commencing January 1971. They were manufacturing Panteras at an averaged rate of 26 per week! The decision to purchase Carrozzeria Vignale in 1969 was proving to have been a profit-making decision.
Ford Took Control
Ray Geddes (the Ford employee in charge of the Pantera project) claimed the factory at Vignale had to be restructured to bring the factory's capacity to its 100 coaches per week potential. This manufacturing capacity was the basis of Ford's earliest prediction to manufacture and sell 5000 Panteras per year. Ford claimed, in view of the Pantera's monocoque construction, there was not enough floor space at Vignale to accommodate the final phase of assembly required by a uni-body style coach. They claimed if floor space had been converted for that purpose it would have reduced the factory's coach manufacturing capacity. Therefore sometime after June 1970 Ford set about building a new 30,000 square foot assembly plant in which to conduct the final phase of assembling Panteras destined for North America; but rather than building the plant in Turin near the Vignale coachworks, they built the assembly plant 185 miles away in the city of Modena ... thus Ford's Pantera would have the prestige of being manufactured in the city renown as the hub of the Italian sports car industry. Ford's decision to build the plant in Modena appears to have been based upon nothing other than "prestige". By mid-1972 Ford would be forced to accept that Pantera assembly was limited by ZF's ability to manufacture gearboxes; that limit was 40 gearboxes per week (i.e. approximately 2000 units per year). Such an assembly rate had been well within the capabilities of the Vignale coachworks as they existed prior to Ford's intervention.
Caption: Notice the Ford logos on the back of the coveralls, this picture was taken at Ford's assembly plant at Via Virgilio, 9 in Eastern Modena
Final assembly of Panteras for both North America and Europe was relocated to Modena Italy in April 1971, when the preparation of Ford's new assembly plant at Via Virgilio, 9 in eastern Modena was completed. The coaches were still manufactured at the Vignale coachworks in Turin, but the suspension, the steering, the brakes and the drive train were installed in Modena.
What is not well understood however is that this "final assembly" stage took place at two different locations in Modena
. Ford shifted final assembly of North American Panteras to their new assembly plant whereas De Tomaso continued to operate independently of Ford and performed final assembly of Panteras and Deauvilles for Europe (and other international markets) at their existing factory at Via Jacopo Peri, 68. Mangusta assembly at that location was concurrently terminated. The chassis number of the first fully assembled Pantera to roll off the assembly line at Ford's new plant falls between 1384 and 1386.
From the De Tomaso point of view Ford took-over the Pantera project at that time.
The details regarding the evolution of Panteras manufactured for the North American market is a story unto itself, which I won't go into now.
Panteras for Europe
Caption: Notice the De Tomaso logos on the pockets of the coveralls, this picture was taken at the De Tomaso factory at Via Jacopo Peri, 68. It is a picture of an early European GTS. One version of this picture indicates they are celebrating the completion of the 2500th Pantera, which would mean the chassis number of the car in the picture is 3501. The picture was taken May 30, 1972.
Once Ford took control of assembling Panteras for the North American market the resources of De Tomaso were able to focus upon refining the Pantera for the European market, independently from Ford. Thus beginning the fall of 1971 three new models were developed. The first new model was the GTS, introduced in November 1971 (built on chassis 2014). Development of the first racing Pantera also began in November 1971, it was developed specifically for competing in the GT class (group 4) of the 1972 World Endurance Racing Series (chassis 2263 was the first Group 4 Pantera). Finally the Group 3 racing Pantera, based on the GTS, was developed. The first Group 3 Pantera (chassis 2661) was built in February 1972. Whereas the first Pantera had been Ford's Pantera, these new models were DeTomaso's Panteras!
Role Reversal
About mid-1972 the De Tomasos decided they no longer wanted to be involved as business partners with Henry Ford II; they sold their 20% interest in De Tomaso Inc. to Ford during the second half of 1972 and the two companies parted ways. Ford thus became 100% owner of the businesses formally organized under the name De Tomaso Incorporated, which included the De Tomaso factory at Via Jacopo Peri, 68. De Tomaso retained the De Tomaso name, but relocated to a new facility in western Modena at Via Emilia Ovest, 1250 in late 1972 or early 1973. De Tomaso resumed final assembly of Panteras for its markets at the new address once relocation was accomplished. Ford reorganized the Pantera project under the name Ghia Operations since they no longer owned the De Tomaso name. Ford had no need for the factory at Via Jacopo Peri, 68; thus it was boarded-up.
The alliance had begun in 1969 with Ford being De Tomaso's customer. Three years later, in a reversal of roles, De Tomaso became Ford's customer for Pantera coaches and 351C engines.
End of the Road For Ford's Panteras and Carrozzeria Vignale
Ghia Operations manufactured a proposal (prototype) for a 1975 Pantera, chassis number 6114, during July/August of 1973; they were obviously considering the extension of the Pantera project which had originally been set to terminate at the end of model year 1974. However an oil embargo in October 1973 curbed the sales of sports cars worldwide and spoiled any chance for a revised 1975 Pantera available via Lincoln/Mercury.
The Lincoln dealers had loved the Pantera when they were selling! The 1971 - 1972 models did what they were intended to do, they increased foot traffic in Lincoln show rooms. There was also more profit built into the Pantera's retail price than any other model on the Lincoln dealer's lot (about $3000 per unit). But the stock market crash in January 1973 slowed the sale of automobiles in general, and the oil embargo in October 1973 caused the sales of sports cars around the world to come to a grinding halt. The Lincoln dealers didn't want an expensive car on the lot that wasn't selling. New safety regulations in the US would have required Ford to invest a good deal of additional money modifying the Pantera to meet the new regulations which were to take effect in model year 1975 ... and further investment could not be justified for a car in which sales had halted so dramatically. So Ford minimized its losses and ceased manufacturing and importing Panteras in August 1974 as it had originally planned to do. Many 1974 Panteras sat on dealer's lots well into 1975 and some into 1976.
We know by chassis numbering that approximately 6380 Panteras had been manufactured when Ford ceased importing them to North America. De Tomaso supervised Pantera assembly at the Vignale coachworks during the first 15 weeks of 1971, approximately 385 Panteras were assembled in that time period, at a rate of 26 per week, which is a believable number (Vignale had a capacity of 100 per week). These are the "pushbutton" models. 285 of those were sold in Europe; the remaining Panteras were exported to North America. Ford controlled the Pantera project during the next 40 months (173 weeks), 5995 Panteras were assembled in that time period. One source claims the total number imported to North America was 6091. Panteras imported to North America encompassed chassis number 1286 through 7380, which is 6095 units. That may be how the 6091 number was derived, if so it does not take into account the Panteras sold by De Tomaso during that same time period.
De Tomaso assembled Panteras at the rate of 2 per week in the "post-Ford" era, therefore I believe it is reasonable to assume that De Tomaso assembled them at the same rate during the Ford era. That equates to about 345 Panteras assembled by De Tomaso from April 1971 to August 1974. Add to that number the first 285 push button Panteras, for a total of 630 Panteras manufactured for De Tomaso's markets from January 1971 through August 1974. If 630 were manufactured for De Tomaso's markets then 5750 (6380 – 630 = 5750) were manufactured for North America. US DOT data accounts for 5262 Panteras sold in the US, which leaves 488 sold in Canada. That is about 9% the number of Panteras sold in the US, which seems like a reasonable number considering the population of Canada was approximately 10% the population of the US in that era. These numbers are of course approximations; I do not claim them to be anything else.
Based on the data above, the statistics for Pantera production through August 1974 are:
Panteras sold by De Tomaso: 630
Panteras sold in the US by Ford: 5262
Panteras sold in Canada by Ford: 488
The number of Panteras imported to North America, whatever that number was, fell far short of the 10,000 units Ford projected would be required to realize a profit. US Ford ceased manufacturing the 351C V8 engine by June 1974. Ford's assembly plant in eastern Modena and Carrozzeria Vignale in Turin (Grugliasco) were shut down after August 1974. Carrozzeria Ghia remained in operation as a design facility for Ford.
Caption: Carrozzeria Vignale as it sits dormant today, with the De Tomaso name still above the door. It is located in Grugliasco, a township west of Turin.
Ford had earnestly sought to acquire an Italian auto manufacturing plant like Carrozzeria Vignale since the 1950s, their dealings with Ferrari in 1963 had been infamous; yet rather than re-purpose the plant they closed Vignale down in 1974 as though it were of little significance. Although the plant was shut-down Ford retained the rights to the Vignale name. De Tomaso acquired approximately 174 unfinished coaches from Vignale (Ghia Operations) before it shut down. As far as I know, those last 174 Pantera coaches represent the last output of the famed Vignale coachworks, however enthusiasts of Vignale automobiles do not consider Panteras to be part of the "Vignale" heritage.
The Post-Ford Era Began
Caption: This was the De Tomaso factory at Via Emilia Ovest, 1250
De Tomaso continued to operate undaunted by Ford's closures, and continued manufacturing Panteras for its markets outside North America. Those markets were predominantly Europe and Australia, but De Tomaso automobiles were sold to Mid-Eastern, Asian and South American customers as well. Ford's closures left De Tomaso without suppliers for the 351C V8 engine or the Pantera's coach however. The coaches acquired from Vignale, which include chassis numbered from 7381 through 7554, allowed De Tomaso to continue manufacturing Panteras for approximately 20 months. Panteras based upon those coaches were assembled by De Tomaso at Via Emilia Ovest, 1250 from September 1974 through spring 1976; at an assembly rate of approximately 2 per week.
De Tomaso secured a new source for 351C engines, Ford of Australia. The engines were acquired for De Tomaso by their Australian distributor, De Tomaso Australia (Ken Matthews and later Paul Halstead). As a reward for acting as liaison between Ford of Australia and the De Tomaso factory, De Tomaso allowed vehicles exported to Australia to be shipped "knocked-down" (lacking suspension, drive train, brakes and steering) and assembled in Australia by DeTomaso Australia from 1974 to 1986. By allowing the Australian importer to perform the final assembly of Panteras in Australia, the importer became the manufacturer of record, thus escaping the limitations, taxes and duties levied upon import vehicles by the Australian government. A similar arrangement was made in the mid 1980s with Amerisport (Kirk Evans) for the grey market import of GT5-S models into the US. But that's the subject of another story.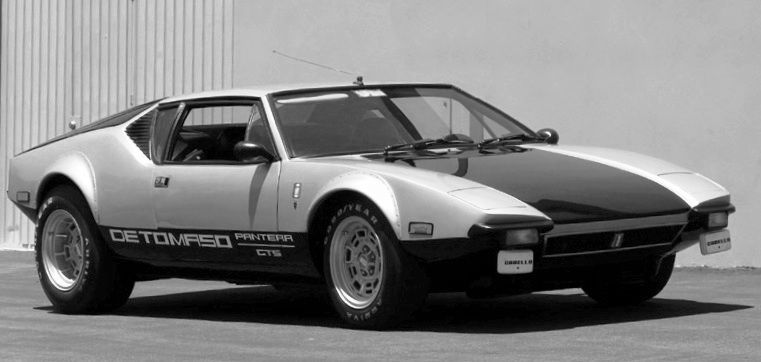 The model range featured in De Tomaso Pantera sales brochures from this era included the Pantera L, the GTS, the Group 3 racing version, and the Group 4 racing version. No Group 4 race cars are known to have been manufactured in this time period however, and I don't believe any Pantera L models were manufactured after August 1974 either. There are seven Group 3 race cars known to me that were manufactured between September 1974 and spring-1976, so I assume the other 167 cars manufactured in this time period were all GTS models. Adding these 174 "Vignale" Panteras manufactured in the post-Ford era to the 630 that had been manufactured during the Ford era, we find that approximately 804 Panteras manufactured from Vignale coaches had been sold in Europe, Australia and other international markets.
Here's my current "best guess" of how many of the various Pantera models built with Vignale coaches were sold by De Tomaso:
Pantera (Push Button): 285
Pantera (Pre-L): 102
GTS: 275
Group 4: 14
Group 3: 42
Pantera L: 86